Overview
It's a win-win for all, including the planet!

The idea for a standardized energy management strategy for automation sprang from the AIDA group of automotive manufacturers in Germany. AIDA companies - Audi, BMW, Mercedes, Porsche and VW – comprise a major part of the European automotive industry. Although acting competitively in the marketplace, they collaborate over areas of common interest. For example, they agreed several years ago on PROFINET as their preferred approach to next-generation networking, in an effort to eliminate the 'choices' that arose from earlier fieldbus experiences.
Energy is one of the biggest operating costs in automotive manufacturing. It's also subject to issues other than cost: security of supply for example, concerns about climate change and governmental regulations over carbon footprints.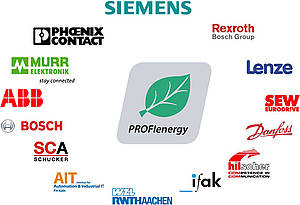 Could there be a special Profile of PROFINET that would standardize an approach to energy saving? AIDA asked. Would PI, with its multi-vendor support and vast experience in developing automation standards based on networking technologies, be willing to help?
A PI Working Group was set up early in 2009. A specification has now been published (available to members at www.profibus.com). The consortium involved in its development is shown in the graphic – a mix of vendors, OEMs and service suppliers.
First implementations of PROFIenergy are expected during 2010.
NEXT